Dr.Vishvanath Bhaskar Chitale was a famous ENT surgeon in Pune, India. He was the founder of Chitale ENT Hospital. He was well known for his intelligence, his strong principles and his ethical medical practice.
Early Life:
He was born in Bhilawadi, district Sangli in southern Maharashtra. His father, B.G.Chitale the founder of Chitale dairy, was a famous businessman. His mother, Janakibai Chitale, was a dedicated housewife always looking out for her family and for community welfare. The basic principles of humanity, hard work and sincerity were engraved in him by his parents. He completed his school education in Bhilawadi and his undergraduation at Willingdon college, Sangli.
Despite being the youngest sibling amongst six brothers and five sisters he was loved and respected by all for his decision making abilities. He was a big support and advisor for the Chitale family.
Career:
His self motivation drove him to become a good surgeon. On his own merit he completed medical school from the prestigious Byramjee Jeejeebhoy Medical College, Pune and finished his ENT residency from the famous J.J medical college, Mumbai.
Philanthropy:
Growing up he was aware of the challenges in rendering medical care in village areas. In his initial years he practised in rural areas like Talegaon and Tasgaon near his home village Bhilawadi. E was always keen in improvising medical services in rural ndia. Soon he established Dr. Chitale ENT hospital on Tilak Road in 1976. He was a master of ENT/ Head and Neck Surgery and empathized with his patients and treated them like family.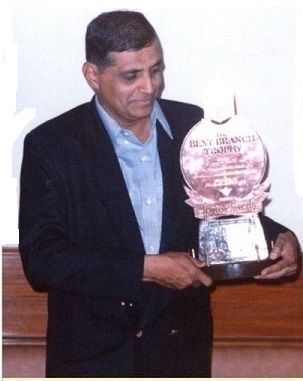 Dr. Vishvanath Bhaskar Chitale
Born: 14 February 1948 Bhilawadi, Dist Sangli, Maharashtra Founder of Chitale ENT Hospital
Alma mater: B.J.Medical College, Pune Grant Medical, Mumbai
Occupation: ENT Surgeon
Relatives: B G Chitale family and Desai Bandhu Ambewale family